Schedule a Time to Learn More
Eliminate Financial Stress and See Your Parishioners and Parish Thrive
I'm not worried about my financial life anymore. It's not that I'm rolling in dough or that I received a large inheritance. It's that I know how to make smart choices now and later, and that makes all the difference.
We have a plan and goals for the present and the future. We are financially prepared for an emergency, have more savings, and are confident that our debt will be paid off much sooner than we originally thought.
Brennan & Carrie
Lincoln, NE
"WalletWin gave me the confidence and blueprint to ensure my family was taking the proper steps to become debt-free and financially prepared for our future."
No matter where your parishioners are on their spiritual, life, or financial journey, the WalletWin Method helps them identify and take their best next step.
Schedule a Time to Learn More
What's Included in a WalletWin Parish License
Your entire parish will receive full access to WalletWin Academy, which will help them:
Learn What to Do, When to Do It, and How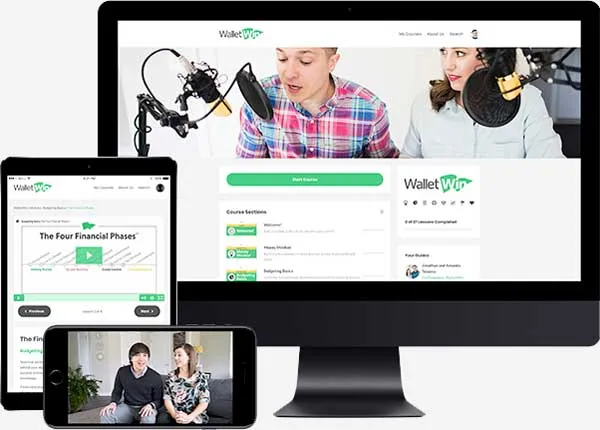 WalletWin Academy members not only learn what Mom and Dad never taught you about money, but also know how to put it into action in their everyday lives.
All WalletWin Academy members have full access to the signature WalletWin Course in the A-Z foundations of personal finance, as well as a course examining the intersection of faith and finance.
Full Streaming Access to Money Courses  |  A Practical Path for Winning with Money  |  Dozens of Worksheets, Cheatsheets, Guides, and More  |  Access on Your Computer or Mobile App
Take Action Without Hesitation
Knowledge isn't enough. Real progress happens where the rubber meets the road. We understand that financial transformation is 20% head knowledge and 80% behavior and attitude.
Academy members have access to live Q&A sessions every week. Come get your questions answered and learn from where others are scratching their heads.
Get Your Questions Answered in Weekly Live Q&As | Move Around Roadblocks | Avoid Pitfalls
Stay Motivated and Keep Going
Your parishioners won't be going it alone. WalletWinners celebrate each other wins, share our best tips and strategies, and work together to transform the world through generosity.
WalletWin Academy members have access to our members-only community where we support each other, ask and answer questions, and harness the power of doing things together through Academy Challenges.
Your Tribe of Like-Minded Folks Who are Dead-Set to Change Their Money Stories | Academy Challenges Keep You Moving
Your parish staff will receive the support you need to make WalletWin a success in your parish:
Our staff is here to support you. No endless automated phone menus or email black holes here.
Save with bulk license packs or cover the whole parish at one, low price.
Easy-to-Follow Plans & Guides
No need to reinvent the wheel when running small groups or getting the word out. We've even written the bulletin announcement.
Money touches every aspect of your parishioners lives - relationships, parenting, giving, health. See the change in your flock by setting them up for success.
Courses to Get You On Course–Included, of Course!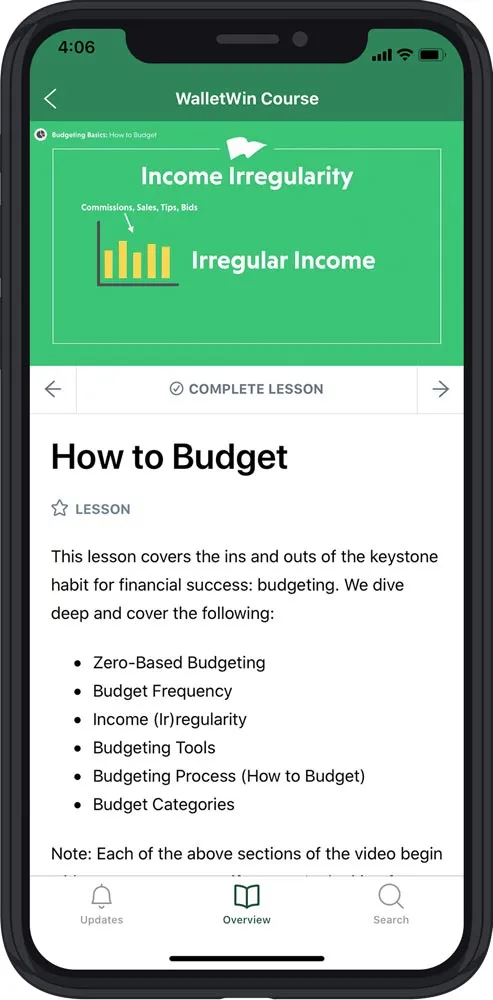 Financial Foundations from A-Z
Parishioners will learn everything their parents never taught them about money in The Catholic Money Course™️, included in their WalletWin Academy membership. A Leader's Guide is included if you'd like to run this course as a small group.
The WalletWin Method - A Step-By-Step Plan for Financial Freedom

The Catholic Money Course takes your parishioners through the WalletWin Method's Four Financial Phases and Twelve Money Milestones, giving them not only a plan, but the practical tools and encouragement to carry it out.
So Much More than a Money Class
Real and lasting financial transformation is 20% head knowledge and 80% behavior. The included courses will give you the head knowledge and tools for your transformation. The rest of WalletWin Academy is designed to help you put it all into action and transform your life.
Also included in WalletWin Academy:
We know you'll run into roadblocks. You'll have questions. Get them answered and keep making progress.
WalletWin Academy Community
Get together with your fellow WalletWinners to keep each other accountable, share tips, celebrate wins, and be inspired.
Harness the power of working together to make progress quickly and supercharge your transformation.
Members enjoy significant savings on premium WalletWin products and services like courses, live events, merch, and 50% off 1:1 coaching, as well as discounts and special offers at a growing list of Catholic businesses.
Well, hey there! We're Jonathan and Amanda Teixeira, Chief WalletWinners around these neck of the woods. We're the duo—and happily married couple—behind WalletWin Academy, where we help everyday people—like YOU!—create the life of their dreams by getting intentional with money.
WalletWin was crafted from years of personal experience both living it out and helping others do the same. In January 2012 we had $24,500 in debt and a deep desire to break free. A short—and zealous—7.5 months later we wrote our last check to Sallie Mae and closed the doors on debt forever.
Since kicking debt to the curb, we've took that same energy and focused on saving, investing, and giving. People started asking us money questions, and we answered. That snowballed into hundreds of people asking questions, speaking at events, and providing financial coaching.
Thus, our personal finance company, WalletWin, was born. It's our honor and privilege to be a guide on YOUR journey towards financial freedom. Thank you for inviting us into this aspect of your life. We promise to do everything in our power to get you real results as fast as possible.
We sent a quick survey to WalletWinners to get a sense of their experience of WalletWin and how their interactions with WalletWin have influenced their faith.
To read some of the response to each question, click/tap on that card and it will expand.
👇 Click to read some of the responses
If we released a Catholic Money Course to be run in small groups in parishes (like Dave Ramsey's Financial Peace University), do you think your parish would benefit from it?
100% "Probably," "Yes," or "Where Do I Sign Up?"
If we released that parish program, would you be willing to lead a group?
65% "Probably," "Yes," or "Where Do I Sign Up?"
We asked a few questions of our Instagram audience, and here's what we found...
Pick Your Own (Financial Transformation) Adventure
Start with a small group or change your parish culture all at once - our straightforward options are designed to fit your needs.
25-Pack of 1-Year Memberships
---
Normal retail value: $7,425/yr
---
Unlimited annual memberships
10-Pack of 1-Year Memberships
---
Normal retail value: $2,970/yr